[caption id="attachment_1597" align="aligncenter" width="900"]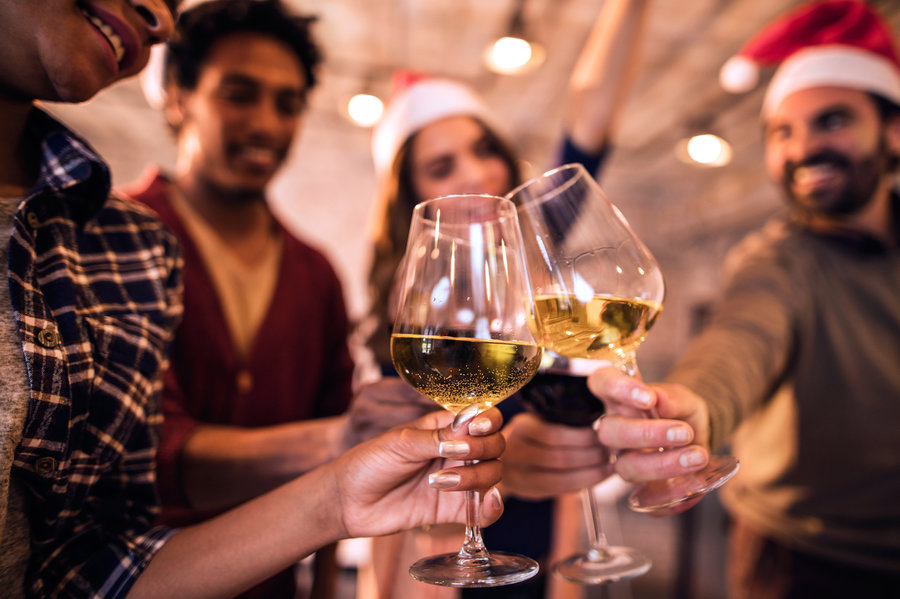 istockphoto.com[/caption] It's the most wonderful time of the year… holiday parties, social occasions galore and, of course, mistletoe! Whether you're holiday plans are filled with company parties or gatherings with old friends, the last thing you want to do is make an unpleasant impression with bad breathe, teeth stains, or spinach and artichoke dip stuck in your teeth. How can you keep your teeth clean and your breath fresh during your holiday parties and get togethers without going to the bathroom every 5 minutes to check in the mirror or brush your teeth? Here are 3 simple tips:
Drink to your health (and your breath).
If you want to keep your smile bright, you should avoid drinking soda, black tea, coffee and red wine, which can stain your teeth. If you do drink these, the best way to avoid stains is to rinse your mouth with water immediately after consuming these beverages. Water helps keep bad breath under control because it washes away food particles and bacteria, the primary cause of bad breath. It also helps you avoid "dry mouth," another cause of bad breath, by staying well-hydrated.
Take advantage of the healthy holiday snacks
. While the spread at many holiday parties consists of lots of sweets and libations, there are some healthy holiday snacks that can keep your teeth clean and your breathe fresh. Parsley and peppermint are two staples during the holiday season and can be extremely helpful when you're in desperate need. Parsley is a breath-saver because it contains chlorophyll, a known breath deodorizer. You can also splash a drop of peppermint oil into your sparkling water and you are good to go for hours. We wouldn't recommend it in your beer though.
Keep quick cleaning basics close by.
It might be impossible for you to brush your teeth each time you eat or between parties. Portable oral care basics like floss, Whisps, and mouthwash are great ways for a quick freshen up. They can also help remove the bacteria from hidden spaces that can't be flushed out just by drinking water. Whatever your plans are this holiday, we hope that your days (and your teeth) will be merry and white. Happy Holidays from our entire staff!