There aren't any studies that show people who get root canals have a higher risk of cancer. In fact, research on the link between cancer and endodontic procedures like root canals shows that people who have had these treatments have a lower risk of certain cancers.
The danger of these claims is that these fears can crowd out other real cancer risks or health concerns. Viewers may focus on previously completed root canals while ignoring well known risk factors for cancer or infection, including smoking, weight gain, and failing to get the right cancer screening tests on time. To be blunt, even if there is some truth to this whole idea, your old root canal is probably not harming your body nearly as much as your bleeding gums, cigarette smoking, or undiagnosed sleep disorder. Illness is cumulative, so it's important to focus on the bigger concerns first when working towards optimal health and well-being.

HOWEVER, there is one very important thing that the documentary ROOT CAUSE gets right! There are many patients walking around with active infection in their tooth roots and bone who have ABSOLUTELY NO IDEA that there is any problem whatsoever. We know this is true because we have advanced 3D imaging that allows us to routinely see infections in the tooth and bone that simply cannot be seen in traditional dental X-rays and are asymptomatic.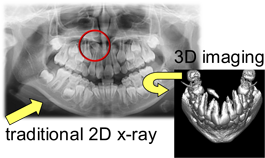 Because of this, we have been able to help countless patients get rid of active infection in their body quickly and easily. The first step to health is accurate and actionable diagnosis!
In looking at documentaries and other health related information on the internet, it's important to remember a phrase we often share with our patients:
"Everything on the internet is somewhat right for some people."
BOTTOM LINE: The most important thing is that you find a provider that you trust who will help you navigate through all the conflicting information out there, and who will have an in depth understanding of your individual circumstances in order to provide you customized advice on how to get and stay healthy.
While root canals can't save every tooth, leaving the natural tooth intact helps maintain the jawbone's original structure. Without the original tooth, the surrounding jawbone that once supported it will eventually break down, affecting a person's appearance and their ability to chew.